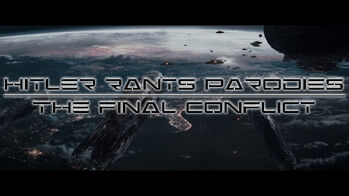 The Final Conflict is a parody series released in 2015, which involves Iron Sky and is set in 2018. It is the final part of the Finality Trilogy, following War of The Hitlers and The Enemy Within. The Final Conflict is the final chapter in the Hitler Rants Parodies universe series.
The plot of the series is almost exactly the same as Iron Sky, albeit with a few alterations.
Characters
Edit
Otto Günsche/Klaus Adler
Wolfgang Kortzfleisch
James Washington
Renate Richter
Ad blocker interference detected!
Wikia is a free-to-use site that makes money from advertising. We have a modified experience for viewers using ad blockers

Wikia is not accessible if you've made further modifications. Remove the custom ad blocker rule(s) and the page will load as expected.