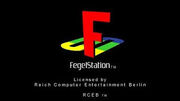 The
ReichStation
is a video game console that was developed by Reich Tech. it is a parody of the Sony PlayStation.
Bust-a-Move (known as Puzzle Bobble outside America and Europe) 2: Arcade Edition
Colony Wars
Command & Conquer: Red Alert - Retaliation
Feg Bandicoot
Feg Bandicoot 2: Hitlex Strikes Back
Feg Bandicoot: Warped
Destruction Derby 2
Driver
Driver 2
Future Cop LAPD
G-Darius
Medal of Honor
Metal Gear Solid
Smash Court Tennis
Star Wars: Rebel Assault II
Tekken 2
Wipeout 2097
Ad blocker interference detected!
Wikia is a free-to-use site that makes money from advertising. We have a modified experience for viewers using ad blockers

Wikia is not accessible if you've made further modifications. Remove the custom ad blocker rule(s) and the page will load as expected.