Martin Bormann


Vital Statistics
Gender
Male
Hobby
Informing bad news, Scraping floors with chair, Get drunk and talk to Speer.
Martin Bormann is one of Hitler's deputies. He often reads bad news to Hitler, causing Hitler to have a rage fit. He is known as Fatso #2, after Göring. He is known to drink and talk about random nonsense to Speer.
Bormann rarely gets the spotlight in the parodies, the only parody he has stard in was Hitler and Bormann's chair scraping the floor.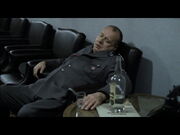 Ad blocker interference detected!
Wikia is a free-to-use site that makes money from advertising. We have a modified experience for viewers using ad blockers

Wikia is not accessible if you've made further modifications. Remove the custom ad blocker rule(s) and the page will load as expected.