Karl Koller


Vital Statistics
Gender
Male
Hobby
Answering the phone, smoking cigar
Karl Koller is a character in Downfall. He was phoned by Adolf Hitler when the Soviets first drop artillery shells towards the city.
Koller then tells him that the artillery fire was from the Zoo Tower and they were only using calibers 10-12 cm. The Russian artillery was already in Marzahn, a district only a mere 12km away from the city center. Hitler angrily declares that the entire Luftwaffe command should be hanged at once and slams the phone.
Karl Koller is rarely seen in the parodies. He is often edited out and replaced by other people who Hitler wants to call, like Joseph Stalin, Eduard Khil (The Trololo Guy) or even a different Hitler.
At one point, Koller was angry about his rare appearances that he calmly bastardized the YouTube layout.
Koller also appears in the Hitler Plans Scene, but has no lines, nor does Hitler speak to him.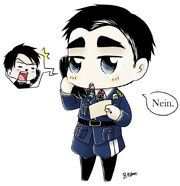 Ad blocker interference detected!
Wikia is a free-to-use site that makes money from advertising. We have a modified experience for viewers using ad blockers

Wikia is not accessible if you've made further modifications. Remove the custom ad blocker rule(s) and the page will load as expected.