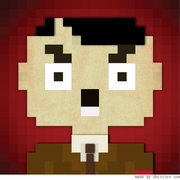 Hitler interviews Inglourious Hitler

Hitler calls Inglourious Hitler a dumbass during the interview.
Important information
Release date
06 February 2012
Length
01:11
Youtube Link
Watch Video
Video

01:11

Hitler interviews Inglourious Hitler



Hitler interviews Inglourious Hitler, which inevitable turns into an argument over who's better. However at the end, when Hitler wishes that Fegelein would just annoy Inglourious Hitler instead of him, but Inglourious Hitler ends the argument by shouting "Nein".

Reich news Headlines
Edit
Hitler, Hitler, Hitler, Hitler, Hitler, Hitler, Hitler and Hitler Argue over which Hitler is the superior Hitler
Jodl reveals his new iObjector device, which Hitler smashed, when it objected to his plan
The Reich Space Agency plans to send a man to the Moon once it has a rocket that is capable of going to the Moon
Reich Corp launches ReichUpload, which allows users to share files with a maximum file size of 1TB
Fegelein is now the World's most wanted man
Skeletor rants about something, but no one bother to listen
Wenck expresses his concerns about his name being used as "Fine" in Hitler's planning sessions
Hitler claims the Reich is the most technologically advanced power in the World
Goring broke Hitler's toilet when he sat on it
Ad blocker interference detected!
Wikia is a free-to-use site that makes money from advertising. We have a modified experience for viewers using ad blockers

Wikia is not accessible if you've made further modifications. Remove the custom ad blocker rule(s) and the page will load as expected.