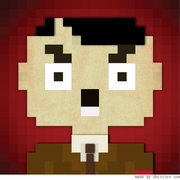 Hitler's firmware update disaster

Hitler starts freezing.
Important information
Release date
(Part 1) 06 February 2012

(Part 2) 02 July 2012 (Part 3) 31 July 2012

(Part 4) 21 Oct 2014
Length
06:40
Youtube Link
Watch Video
Video

06:40

Hitler's firmware update disaster



Hitler
updates his firmware to version 13.30.10 hoping that it will fix any bugs and improve his performance, but instead makes things worse and causes him to freeze and glitch.
In the second, third and fourth part, the glitching gets worse and even infects the whole Bunker.
Ad blocker interference detected!
Wikia is a free-to-use site that makes money from advertising. We have a modified experience for viewers using ad blockers

Wikia is not accessible if you've made further modifications. Remove the custom ad blocker rule(s) and the page will load as expected.